Property Overview
Square Feet: 67,029
Located in the 300-acre MoCo Life Sciences Center and centered between Johns Hopkins University, Adventist Healthcare Rehabilitation Center, University of Maryland at Shady Grove, and a multitude of medical specialty practices, this five-story medical suites office building includes 20+ tenants, and is attached to Shady Grove Adventist Hospital.
Adventist HealthCare, Shady Grove Medical Center is adding a new Next-Level Services patient tower, with an estimated 2024 delivery.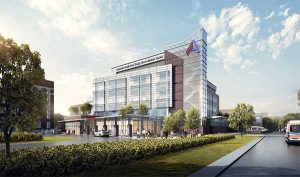 Follow the progress here
In 2021 the patented Sterile Sweep system was installed at the property for advanced Indoor Air Quality.  The system uses a UVC beam to scan and inactivate airborne pathogens.  Read more about the system here.
Visit the webpage for Medical Plaza II, located directly next door to Medical Plaza I.